P. O. Box 10075 – Jonesboro, AR 72403
870-932-1955 (message phone only)
for almost immediate response email our director
[email protected]
R.A.I.D. – RESCUING ANIMALS IN DISTRESS
"Martin" – Miracle Boxer
UPDATE ON MARTIN – 3/15/2011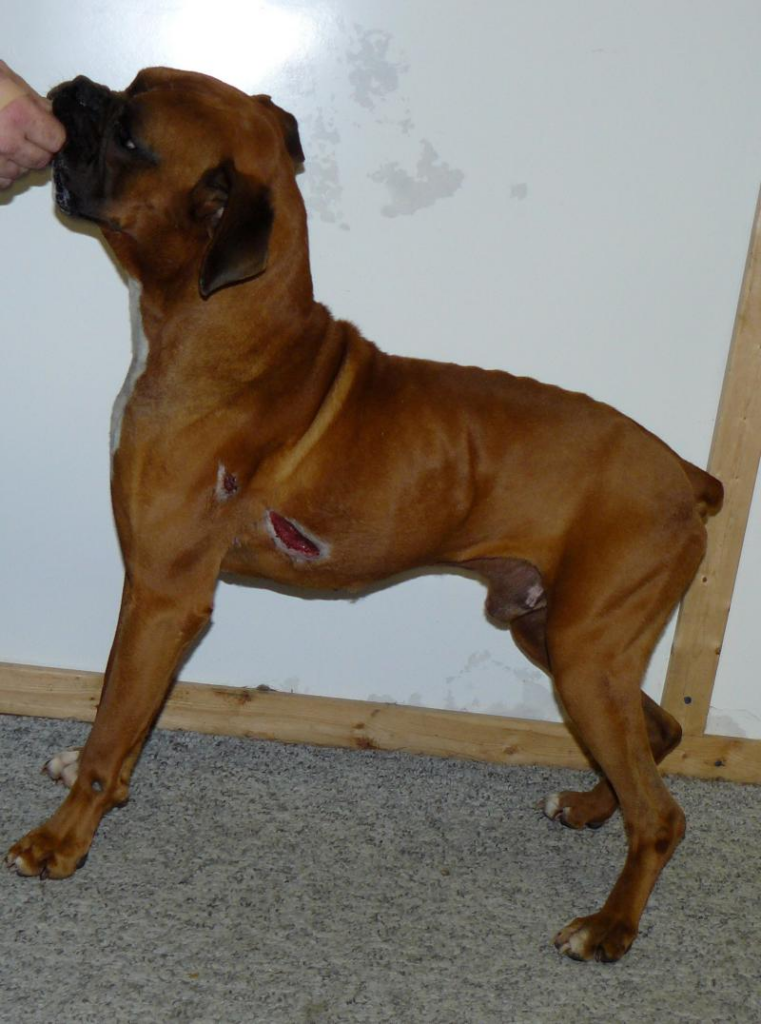 There is some really great news and some not so good news with Martin. First, the great news – he is healing wonderfully and gaining weight daily. He is main-taining his wonderful attitude and still loves everyone. Even with all the poking and prodding he always has his nubby tail wagging and ready to give slobbery kisses.
The not so good news is that Martin is, as we expected he would be, heartworm positive.  While NAFA certainly can't choose to treat every heartworm positive dog that we get, our board of directors has voted unanimously to gather funds for his treatment.  He will being a 30 day regimine of Doxicycline and then start treatment. 
Initially we believed that "Martin" had been hit by a car. However, on closer examination it has been determined that he was either shot with a bullet or more likely an arrow. The arrow grazed across the side of his body and entered/exited at the shoulder blade. The injuries appear several days old and too advanced to allow surgery. So, Martin will need extensive dressing changes, medications and vet visits.
He is quite an amazing boy. He is estimated to be approximately 2 years of age. He is extremely emaciated and was in a great deal of pain, yet his little nub of a tail constantly wagged and he gave kisses to everyone who touched him.
It will be a long hard road to recovery for Martin, but as long as he is willing to work so hard to live we will work to help him survive.
We are looking for a special needs foster home that will be willing to foster "Martin" and look after his wounds, changing his dressing and giving him his medicine. Of course, NAFA will pay all expenses. We are also looking for additional finances to help with Martin's recovery. If you would like to help, please send your check to P. O. Box 10075, Jonesboro, AR 72403 or go to our causes page and make a donation. You can also stop by Petco on Saturday's 1 to 4 pm and see more photos and information about "Martin" before making your contribution.
**Update** Martin – Miracle Boxer
"Martin" is improving each day and the vet says that if he continues to improve as much each day as he has done so far he will be out of the woods by next week. Please know that your donations will help greatly with his care. He is a wonderful boy and has a loving heart and a super strong will to survive.
If you would like to help with "Martin's" care please donate through NAFA's Causes page or by stopping in at Petco on Saturday from 1 p.m. – 4 p.m. You can also mail a donation to us at:
NAFA
P.O. Box 10075
Jonesboro, AR 72403
We will continue to keep everyone updated as he progresses.
If you are looking for a worthy cause to help dogs and cats in desperate situations, please consider making a donation to NAFA's Causes Page by clicking here.
       If you have any of the following items that you could donate, you may contact us at [email protected] or drop them at our Animal Services Building – 233 N. Gee in Jonesboro, Arkansas.
Blankets
Toys
Towels
Newspapers
Financial Donations
Litter
Trash Bags
Cleaning Supplies
Bleach
Laundry Supplies
If you would like to learn more about animal hoarding in general please read this.